FREE SHIPPING ON ORDERS OVER 75$ USE COUPON CODE FALL2020
DISCOUNT APPLIED UPON CHECKOUT
Now introducing a very limited Deluxe Edition of selected prints 
ALL OUR PRINTS ARE LIMITED TO AN EDITION OF 50 SIGNED AND NUMBERED COPIES:
In our Gallery Store you can purchase art using PayPal, Visa, Mastercard and American Express.
15$ FLAT RATE WORLDWIDE SHIPPING
COVID-19 INFORMATION
 Due to the Covid-19 pandemic we are experiencing problems shipping to a few countries. We are searching for a viable option in order to remedy the situation. Placed orders will be sent out as soon as possible. We are deeply grateful for your patience and kind support. Please visit our FAQ page to see the complete list of countries we are currently shipping to.
GHOST PRINTS BY ANNA MAIA
VERY LARGE PRINTS BY SENJU
Print size varies between 80 – 110 cm in height depending on the  original painting (aprox. 31″ – 43″). For landscape orientation prints the measure applies to the width of the print.
These beautiful things and others are avialable through out RED BUBBLE store. Click here or on any of the images below
New release
Kuchidzuke
The Kiss – revisited
Almost two years after Senju presented his first version of "Kuchidzuke" (the kiss) he is now ready to unveil a new version. In this new homage to the genius of one of his favourite painters – Gustav Klimt, Senju brings as refined skill set and a sharper vision into play. This painting grows from the same roots as the previous version yet tells a more refined story. The strong of influence of traditional Japanese painting, on which Senju's art thrives and depends, is  allowed to roam free further enhancing the artist's original vision and idea.
The Kuchidzuke print comes in medium to very large size.
New release
Hanami 
Shunga painting by Senju
A couple in love enjoy the stunning but ever so fleeting beauty of the sakura (cherry blossom) petals falling. Beneath the cherry tree they whisper sweet secrets to each other and veawe a fabric of gold thread and blood red silk. When we name things around us, then attaching a value to them according to the warped idea of "normalcy" we will experience anxiety and suffering inside. Love can only be love. There is no "normal" beneath the cherry tree.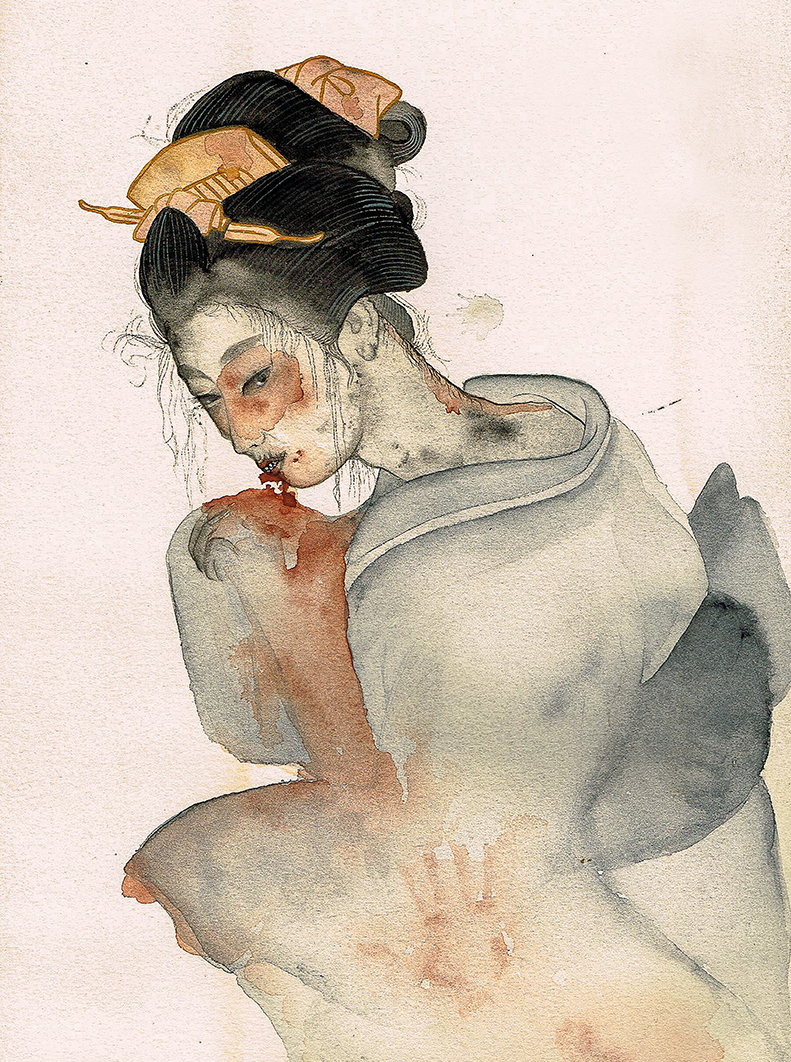 New release
Chimamire
Ghost painting by Senju
Sumi and Japanese Gansai pigment colors on paper.
The bloody handprint on her kimono sleeve reminds us of the painful and violent struggle that preceeded her death at the hands of a violent man.
Now a bloody red handprint can be found on the men facing her revenge.
New release
Botan Doro
Ghost painting by Anna Sandberg
Sumi ink and Japanese Gansai pigment colors on paper.
When love transcends the barrier between life and death.

55 female artists
The Secret Garden
An international collection of works inspired by the art of Shunga
Shop Now
JAPAN IN PHOTOGRAPHY BY SENJU
Japan in Photography by Senju
Over his many visits to Japan Senju has always brought along his camera, using it a way to explore Japan's history, culture and people. Through the viewfinder details otherwise missed or overlooked becomes clear and a more intricate pattern can be woven into the fabric that is Japan's heart and soul.
Please feel free to contact us if You have any questions.
Answers to your inquiry might be found in our FAQ