FREE SHIPPING ON ORDERS OVER 75$ USE COUPON CODE FALL2020
DISCOUNT APPLIED UPON CHECKOUT
Now introducing a very limited Deluxe Edition of selected prints 
ALL OUR PRINTS ARE LIMITED TO AN EDITION OF 50 SIGNED AND NUMBERED COPIES:
In our Gallery Store you can purchase art using PayPal, Visa, Mastercard and American Express.
15$ FLAT RATE WORLDWIDE SHIPPING
COVID-19 INFORMATION
 Due to the Covid-19 pandemic we are experiencing problems shipping to a few countries. We are searching for a viable option in order to remedy the situation. Placed orders will be sent out as soon as possible. We are deeply grateful for your patience and kind support. Please visit our FAQ page to see the complete list of countries we are currently shipping to.
GHOST PRINTS BY ANNA MAIA
VERY LARGE PRINTS BY SENJU
Print size varies between 80 – 110 cm in height depending on the  original painting (aprox. 31″ – 43″). For landscape orientation prints the measure applies to the width of the print.
These beautiful things and others are avialable through out RED BUBBLE store. Click here or on any of the images below
New release
Kodama
Tree Spirit
Kodama is the Japanese name for a certain kind of tree spirit. This guardian of the forest has a long and deep history with the Japanese people, even if young people today have only encountered them through the visionary film "Princess Mononoke" by genius director and animator Hayao Miyazaki.
Senju's "Kodama" is very distantly related to Miyazaki's cute little spirits. There are very few visual representations of these forest spirits, and one has to instead look to words and writings. Stories of Kodama vary according to regions in Japan. Different historical eras of Japan also see them change character and appearance.
One old story tells of a Kodama assuming the shape of a human because of love, and this is the idea he decided to pursue in this painting. He felt an urge to capture her just as she was transforming.
The Kodama print comes in small to very large size.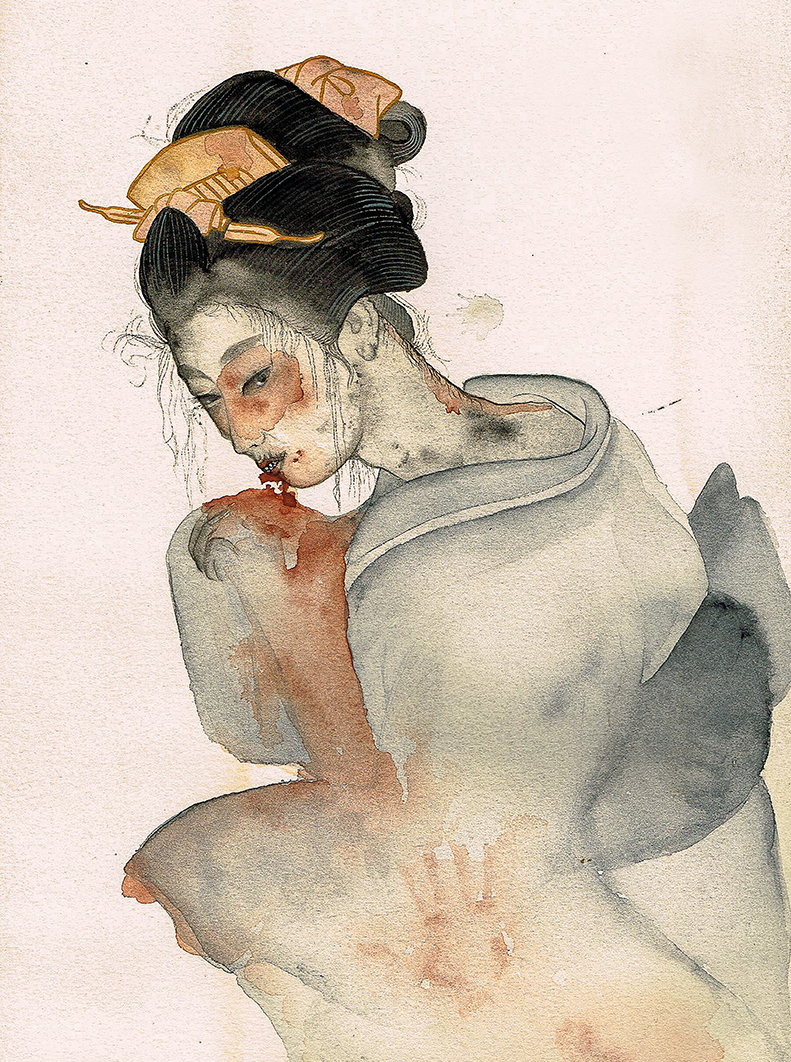 New release
Chimamire
Ghost painting by Senju
Sumi and Japanese Gansai pigment colors on paper.
The bloody handprint on her kimono sleeve reminds us of the painful and violent struggle that preceeded her death at the hands of a violent man.
Now a bloody red handprint can be found on the men facing her revenge.
New release
Botan Doro
Ghost painting by Anna Sandberg
Sumi ink and Japanese Gansai pigment colors on paper.
When love transcends the barrier between life and death.

55 female artists
The Secret Garden
An international collection of works inspired by the art of Shunga
Shop Now
JAPAN IN PHOTOGRAPHY BY SENJU
Japan in Photography by Senju
Over his many visits to Japan Senju has always brought along his camera, using it a way to explore Japan's history, culture and people. Through the viewfinder details otherwise missed or overlooked becomes clear and a more intricate pattern can be woven into the fabric that is Japan's heart and soul.
Please feel free to contact us if You have any questions.
Answers to your inquiry might be found in our FAQ