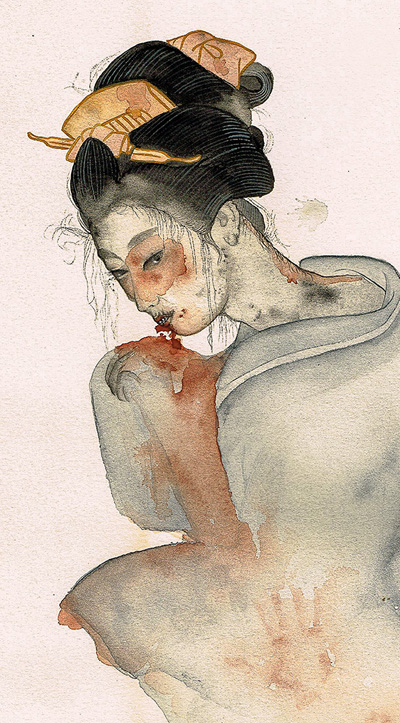 Due to the Covid-19 pandemic we have problems shipping to ship to some countries. We are searching for a viable option in order to remedy the situation. Placed orders will be sent out as soon as possible. We are deeply grateful for your patience and kind support. Please visit our FAQ page to see the complete list of countries we are currently able to ship to!
Autumn prices on selected prints & books
We celebrate Your continued support of our creative journey by offering a collection of prints and books at lovely prices. Enjoy!
The SALE applies to selected prints in selected sizes.
Payment Options
In our Gallery Store you can pay with Visa, Mastercard and American Express.
Shipping is always 17$ flat rate and worldwide.
New release
Seishin 
Shunga painting by Senju
Seishin is a Japanese word and is translated as celestial bodies or stars. In this new version of an older work by Senju, the artist seeks to tap into new skills and insights in order to better capture his original vision. The word that first came to him during the process was intimacy and how our sexuality is a part of that most human of our heart's desires. When we are truly intimate we merge with the universe in the way we were originally intended to. Without separation or feelings of being all alone in the dark void.
The process was also intended as a way to further brake free from aestethic chains and the idea of having to remain the same for any period of prescribed time. Who were one minute ago is very far from what we are in the exact Now, and it is the feeble attempt of recreating the past and predict the future that makes us so full of anxiety.
The Seishin print comes in medium to very large size.
New release
Onryou
Ghost painting by Anna Sandberg
Sumi ink and Japanese Gansai pigment colors on paper.
A sad and angry spirit whose life was stolen away from her at a time of happiness, betrayed by her lover's family.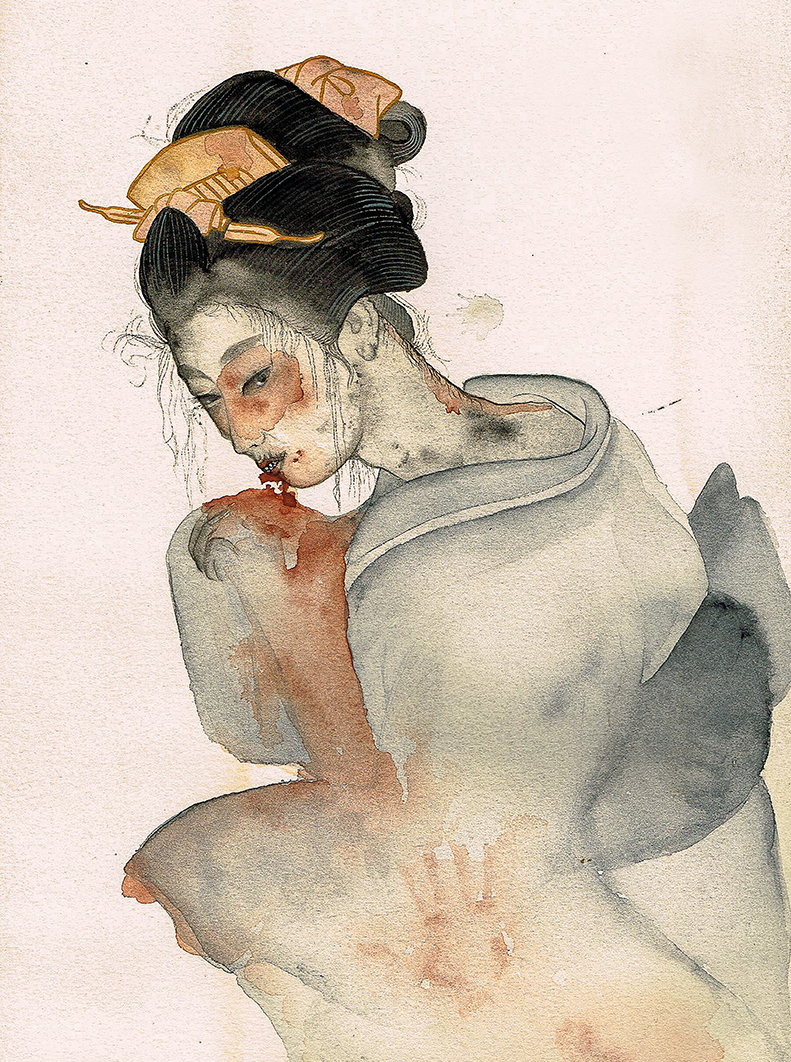 New release
Chimamire
Ghost painting by Senju
Sumi and Japanese Gansai pigment colors on paper.
The bloody handprint on her kimono sleeve reminds us of the painful and violent struggle that preceeded her death at the hands of a violent man.
Now a bloody red handprint can be found on the men facing her revenge.
55 female artists
The Secret Garden
An international collection of works inspired by the art of Shunga
Shop Now
Japan in Photography by Senju
Over his many visits to Japan Senju has always brought along his camera, using it a way to explore Japan's history, culture and people. Through the viewfinder details otherwise missed or overlooked becomes clear and a more intricate pattern can be woven into the fabric that is Japan's heart and soul.
Please feel free to contact us if You have any questions.
Answers to your inquiry might be found in our FAQ