As we introduce you to the haunting ghost paintings created by Anna Sandberg, we also launch a 7 day sale on all ghost prints.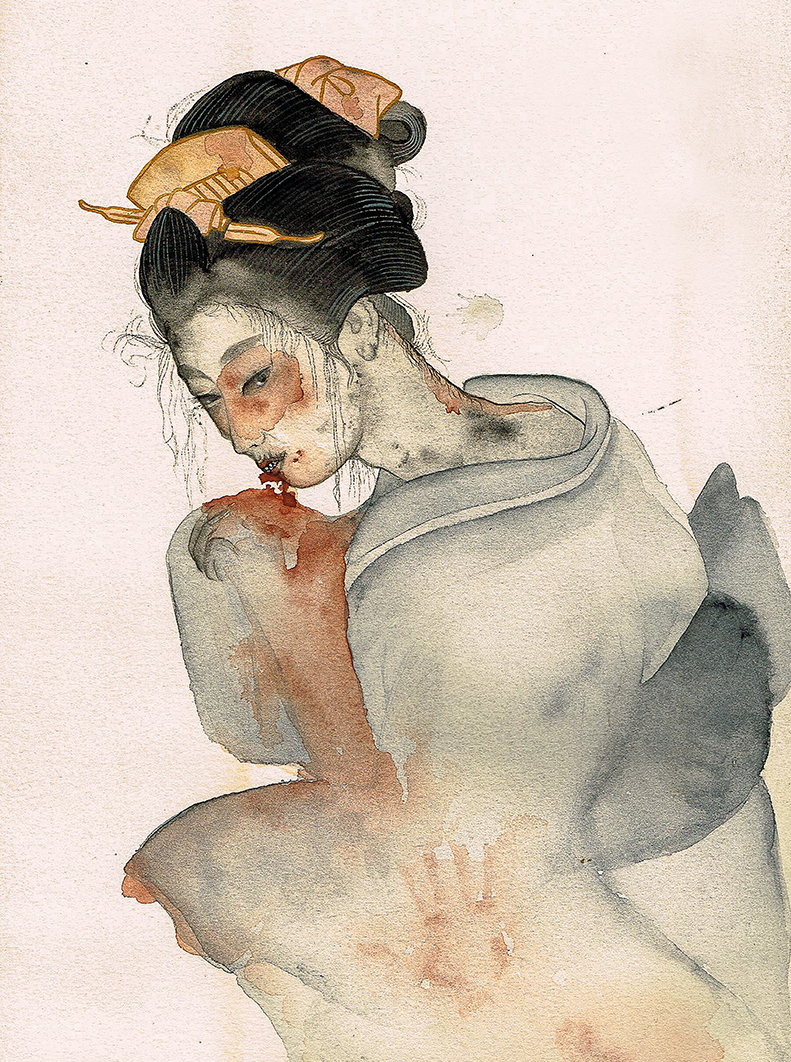 New release



Suushi

Shunga painting by Senju
A new painting by Senju embraces the melancholy of autumn portrayed in decaying red momiji (maple) leaves presented to the viewer by a ghost in white burial robes. Note that the kimono is worn right over left at the front. A way of dressing reserved only for departed souls and of importance to remember when wearing kimono. To cross the front in this way when you are a living person is a sure way to invite bad luck and even the haunting of ghosts. The pattern on the fabric, dissolving into emptiness and air, consits of white kiku (chrysanthemums) which is a flower very much associated with funerals and grave decorations in Japan. There is a calm beauty invoked in this image.
The Suushi print comes in medium to very large size.
New release
Onryou
Ghost painting by Anna Sandberg
Sumi ink and Japanese Gansai pigment colors on paper.
A sad and angry spirit whose life was stolen away from her at a time of happiness, betrayed by her lover's family.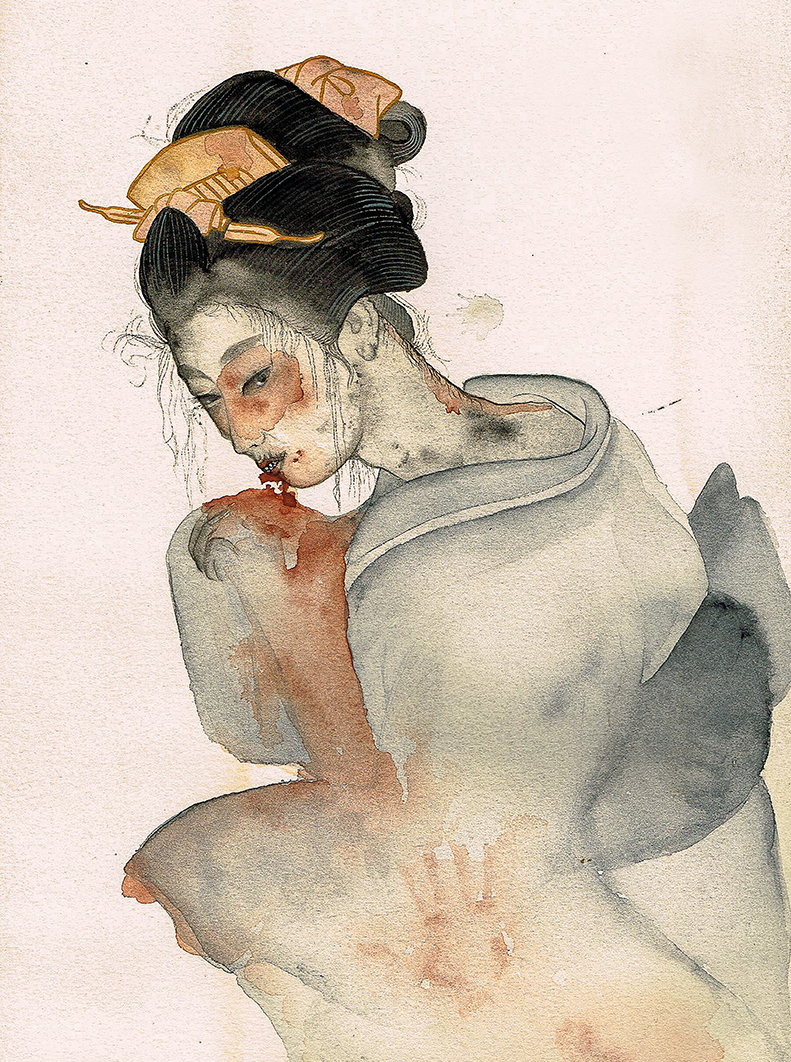 New release
Chimamire
Ghost painting by Anna Sandberg
Sumi and Japanese Gansai pigment colors on paper.
the bloody handprint on her kimono sleeve reminds us of the painful and violent struggle that preceeded her death at the hands of a violent man.
Now a bloody red handprint can be found on the men facing her revenge.
Unfortunatly we are not able to ship to all countries during the Covid-19 pandemic. There are a few we cannot yet reach. Please consult our FAQ for a complete list of countries that we can ship our prints and books to.
Autumn prices on selected prints & books
We celebrate Your continued support of our creative journey by offering a collection of prints and books at lovely prices. Enjoy!
The SALE applies to selected prints in selected sizes.
Payment Options
In our Gallery Store you can pay with Visa, Mastercard and American Express.
Shipping is always 17$ flat rate and worldwide.
Senju Shunga
Mirror Images of the Sensual World
Senju dedicates his life to the exploration of the human heart. A quest for intimacy, poetry and what lies deep within us. Since decades he has used Japanese culture, history and traditions as a means to illustrate his discoveries and visions.
54 female artists
The Secret Garden
An international collection of works inspired the art of SHunga
Shop Now
Please feel free to contact us if You have any questions.
Answers to your inquiry might be found in our FAQ